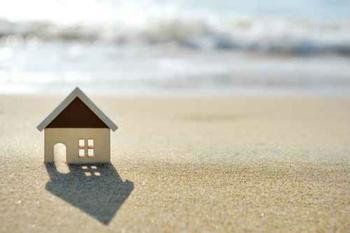 The U.S. real estate market appears strong, with tight inventories driving home prices higher in most markets.
And it's not just primary residences that are in growing demand. The National Association of Realtors (NAR) reports sales of vacation homes – while down in 2015 from the year before, are nonetheless on a red hot pace.
In fact, the Realtors' group says the median sales price of both vacation and investment properties surged last year, though the number of sales declined from the previous year.
As they have done throughout their adult lives, Baby Boomers are driving this trend.
Boomers propel demand
"Baby boomers at or near retirement continue to propel the demand for second homes, although headwinds softened the overall volume of vacation sales last year," NAR Chief Economist Lawrence Yun said in a release.
Yun says there are more buyers competing for a dwindling number of bargain-priced properties. This tighter supply in the face of rising demand may have resulted in fewer sales, but the homes that did sell sold at a premium.
Perhaps because of the popularity of cable TV shows about home "flipping," sales of investment homes posted a significant increase in 2015, rising from 1.02 million to 1.09 million, a 7% gain. The numbers represent purchases by individual buyers, excluding institutional investors.
Yun says vacation home sales have helped Florida recover from the housing debacle of the last decade, since the bulk of vacation home sales are occurring in the south.
The downside, says Yun, is that the significant run up in price has probably squeezed out less affluent buyers looking for a vacation home.
Seeking rental income
Meanwhile, the trend in investment property is shifting away from flipping and more toward income.
"Steadily increasing home prices and strong rental demand appear to be giving more individual investors assurance that purchasing real estate will diversify their portfolios and generate additional income if they decide to rent out the home," Yun said.
The NAR survey shows the median investment home buyer last year had a household income of $95,800, and most bought a detached single-family home not far from where they lived.
Forty-two percent of buyers said they made the move to gain rental income. Only 14% cited price appreciation as a main reason for the investment.